alexander technique teacher portland or linda
The teacher training that is offered at OCAT is the only program in the Pacific Northwest recognized by the Affiliated Societies, the network of professional organizations worldwide that are an outgrowth of STAT. STAT was formed in the United Kingdom in the 1960's by teachers trained directly by F. M. Alexander to protect the work, the public, and secure the historic standards in teacher training.
A highlight of my experience with the Alexander Technique was being involved with studies at Oregon Health and Sciences University's Neurological Sciences Laboratories from 2003-05, under Dr.'s Tim Cacciatore, Victor Gurfinkel and Faye Horack. I was a subject in numerous experiments myself, as well as the teacher of subjects being tested for relief of back pain. I am grateful to have had several years of interaction with these brilliant scientists who find the Alexander Technique worthy of rigorous study. I continue to bring current findings from scientific research to my private lessons and teacher training.

Wednesday 6:30pm PST
All classes are pay what you can
In 2008, she was the author, director and curator of the South Waterfront Artist-in-Residence Program, as well as the groundbreaking project, The City Dance of Lawrence and Anna Halprin, which was presented as part of PICA's TBA:08. In 2011, she was honored to be one four featured artists in Dance: before, after, during, a first-of-its kind exhibition curated by Terri Hopkins at the Marylhurst Art Gym, which took as its subject the visual materials dance artists create/use while in the process of composing their work. She is currently an adjunct faculty member in Dance at Portland State University, and just completed setting the first ever mixed-ability translation of Trio A on the AXIS Dance Company in Oakland, CA. She is thrilled to be one of 12 featured female artists in the soon-to-be published monograph by Kris Timken – New Explorers, which features an introduction by art historian and writer, Lucy Lippard, and addresses landscape, feminism, and hybrid performance practice.
Linda K. Johnson (TBA:16 Guest Scholar) has been a professional dance artist based in Portland, Oregon for over 25 years. Over this quarter century of creative practice, she has taught, performed, created, curated, and produced extensively throughout the West Coast, influencing and forwarding the development of infrastructure (studios and dance programs), funding (support), and conceptual networks (information and training) for colleagues and students. An Oregon native, her concerns as an artist are social and environmental, and address our collective relationship to site, place and community. Since creating her first site-based, large-scale interdisciplinary performance in 1992, Johnson has gone on to author over 15 major works which have utilized Portland's forests, urban intersections, waterways, derelict lots, neighborhoods, green spaces, parks, as well as formal spaces, as staging grounds for presentation. A recipient of the Oregon Arts Commission Individual Fellowship for Dance in 1999, Johnson's work has been generously funded and commissioned by public, private and individual sources, and has received critical review in many venues, including Dance Magazine, Landscape Architecture, NPR/Living on Earth, and Metropolis Magazine. She has been awarded residencies at the Rauschenberg Artist Residency, Yaddo, Caldera, and the Sitka Center for Art and Ecology to further the development of her creative work.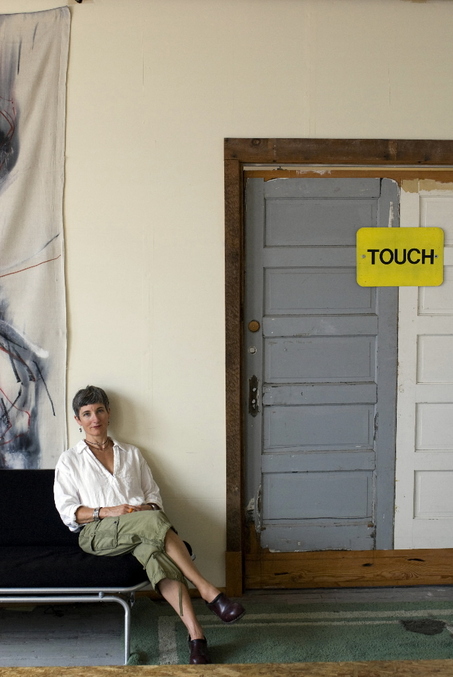 "I found Alexander Technique life-changing. As a competitive dancer, I began lessons to improve my dancing, but quickly found myself immersed in a deeper study of how I move and think in every aspect of life, especially how habits are formed. For me, Alexander Technique brought together disparate areas of knowledge and unified them on the foundation of bodywork. Linda's expertise as a professional dancer and her depth of experience in applying Alexander Technique to choreographic movement makes her an absolutely invaluable guide for a dancer of any discipline. My dancing transformed from a bundle of habits to a connected, easeful whole. I was better able to direct my energy to make my movement powerful rather than tense. I believe any dancer or athlete will notice a huge difference in their performance with Alexander study. In addition to being an excellent dance teacher and Alexander teacher for dancers, Linda has been tremendously helpful for me with body movement outside of dance, including in acting, singing, and everyday movement. The benefits extend far beyond my dancing. I often recommend Linda to people whether they have an athletic/artistic goal or not, because I believe anyone with a body will find Alexander Technique to be a breath of fresh air, and perhaps as transformative as I have."
"I am a violin teacher who has experienced chronic pain. Linda's Alexander Technique lessons have been very valuable and eased my pain substantially. Linda offers a unique perspective as a dancer and educator. Her joyful and playful approach works well for me, and it is easy for me to incorporate her suggestions into my daily life."

Alexander Technique Portland offers private lessons, group classes, and workshops in Portland, OR.
Lyra offers private lessons in Portland, OR at reFORM Pilates and Movement. A Contemporary Alexander Technique lesson is taught sitting or standing, on a massage table or in an activity, with the instructor using touch to suggest new ways of moving, coordinating, and being in your body. No special clothing is required. A session might involve walking around the studio, laying on a massage table, or demonstrating an activity from your daily life (playing an instrument, dancing, sitting at a desk, riding a bike, etc.) Lyra communicates in approachable language, using metaphors and analogies that allow you to visualize and internalize the movement patterns that we are seeking to address. She will also use teaching aids like anatomical pictures and skeletons to help demonstrate the body mechanics at play in our movement patterns. While it may remind you of a physical therapy session or a bodywork session, is is not quite either thing, and is fundamentally educational. The goal of a session is for a student to leave with practical, actionable awareness to help them move through the world with more ease, opening up new possibilities of action and motion.
References:
http://www.alexandertechniqueportland.com/book-now
http://www.pica.org/artists/linda-k-johnson-2/
http://www.lindakjohnson.net/contemporary-alexander-technique
http://www.alexandertechniqueportland.com/
http://www.nhs.uk/conditions/alexander-technique/